Evening Workshop at Eastover
NOW ONE HOUR PER EVENING, starting at 7pm. Payment is $15 per evening of participation. For any questions, email fw@insightandenergy.com, or call (718) 229-2609.

Communication for Connection and Growth, in Tai Chi Chuan and in Life

Led by David B. Alexander, Tai Chi Chuan Instructor and Licensed Psychoanalyst, www.insightandenergy.com and www.internal-tai-chi-ny.com
We will examine and practice together various styles and strategies for reaching other people. In a learning environment such as a Tai Chi Chuan class, it is important to balance the use of encouraging words with the use of corrections in such a way that the student stays open and comfortable while also learning. The same fundamental principles apply in daily life, in all of our interactions.
Much of the workshop will be focused on communication that takes place during a Tai Chi Chuan class: how to clarify what a student could work on or be more aware of; when to say nothing; use of body language and feeling as part of reaching the student and fostering good feeling and commitment in each student and in the class. These skills are also useful in all aspects of daily life.
We will also practice the Yang short-form straight through, at the end of the hour as the last scheduled activity for the day, for deep relaxation, energy, and well-being.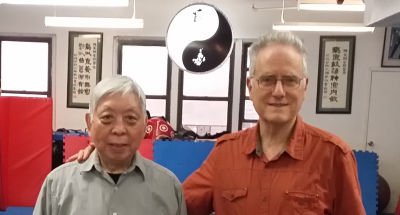 Specific areas we will look at include, and apply to both verbal interactions and physical interactions such as push-hands and boxing:
Noticing tension in the other, and helping them loosen the tension
What to do when the other person seems not to understand
Specific types of movement and words as cues to how to respond
And, more related to push-hands and boxing:
Taking things personally vs. understanding the bigger picture
How to respond to challenging, "disagreeable" interactions
The use of inclusive communication so everyone wins.
In this workshop the participants will expand the repertoire of actions to handle effectively the variety of situations that we all face, whether in a teaching role or in other daily interactions with others.
NOW ONE HOUR PER EVENING, starting at 7pm. Payment is $15 per evening of participation.